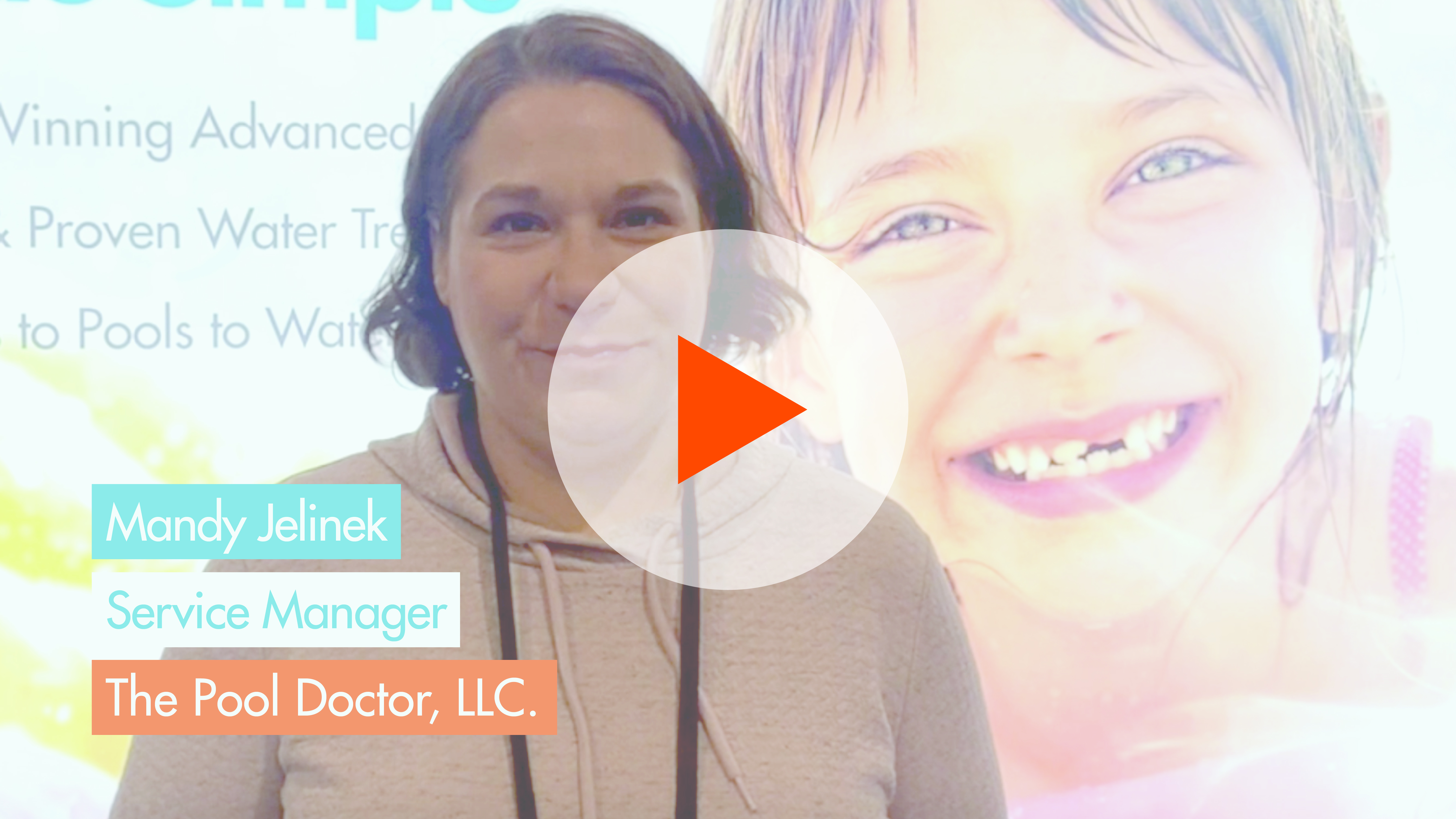 As a busy pool professional, you want a water treatment system that makes your life easier and your customers happier. For Mandy Jelinek, Service Manager at The Pool Doctor in Traverse City, Michigan, Clear Comfort's easy installation, low maintenance and crystal clear, healthy water is the perfect solution. 
"Less Chemicals to Treat the Water, the Water's Always Crystal Clear"
"I'm using less chemicals to treat the water, the water's always crystal clear, it feels nice and soft, the customers are completely satisfied with it," Jelinek said. "They never have to worry if they're gonna have a party the next day what the pool is gonna look like after the party – it always looks miraculous."
Since Jelinek and The Pool Doctor team started using Clear Comfort's AOP treatment for their residential and commercial customers, they are
using significantly less chemicals
and their routine maintenance is much quicker. Their job is easier and their customers are happier. When pool owners experience the effects of low-chlorine, odorless and fresh-feeling AOP-treated pool water, they are much more satisfied with their pool service company and often become loyal, lifelong customers.
"From a Maintenance Standpoint, It's Very Easy"
"From a maintenance standpoint, it's very easy," Jelinek said. "Significantly less chemical usage, you're saving money in the long run."
For pool service professionals, time is money. By reducing the amount of time required and chemicals deployed, service companies like The Pool Doctor are delivering superior service and enhancing their operations and margins. In addition to drastically reducing chemical demand, Clear Comfort AOP systems simplify maintenance and require less than 10 minutes of service per year. Operational savings easily translate to higher profits per pool and more pools to service.
"Safe for Your Kids, Safe for Everybody" 
"Beautiful water, safe for your kids, safe for everybody to swim in," Jelinek says about her Clear Comfort pools. "Your kids can be swimming and they'll never have those red eyes, or the itchy skin, burning throat, anything like that."
Clear Comfort's unique, patented AOP water treatment system uses powerful and fast-acting
hydroxyl radicals
to disinfect and oxidize contaminants in pool water, including chlorine-resistant
Cryptosporidium
. The Clear Comfort system also reduces harmful chloramines and other disinfection by-products that cause skin, eye and lung irritation. Delivering peace of mind allows customers to Swim Happy™ without worry. 
"It's a great product and I highly recommend it to anyone," Jelinek said.
The Pool Doctor is a highly respected and well-trusted pool service provider that services about 100 pools a week. After seeing how much her
customers love their pool water
and how much chemicals she has reduced, Jelinek has become an enthusiastic advocate for
Clear Comfort's Advanced Oxidation Process (AOP) pool treatment systems
. The Pool Doctor has won praise for delivering premium water quality, healthier swimming, simplicity and easy system maintenance using the award-winning Clear Comfort system. 
Contact us to become a Clear Comfort Dealer Partner
.