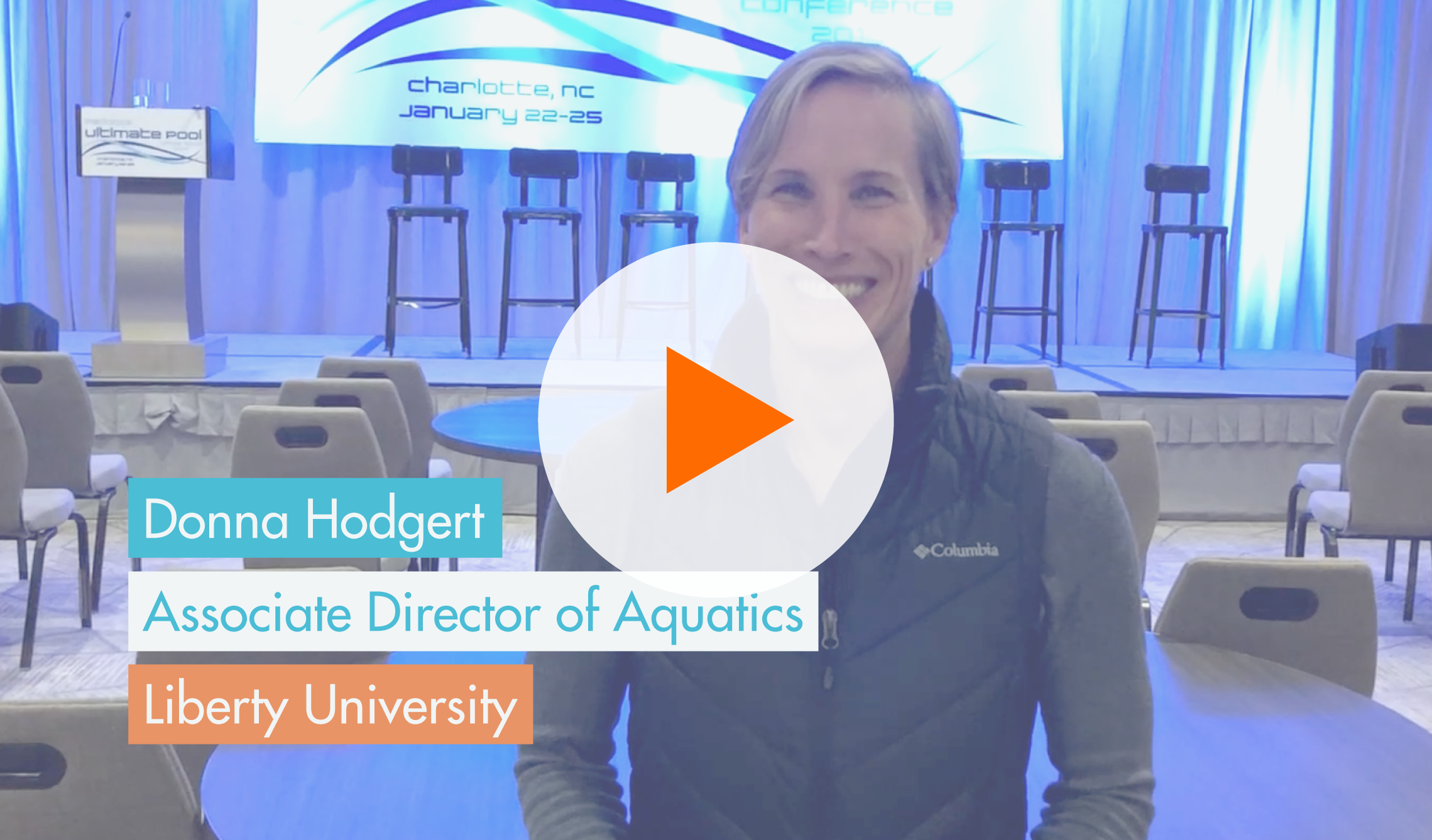 Nationally Renowned Competitive Swim Facility Improves Air and Water Quality While Lowering Chemical Use with Clear Comfort
Liberty University, home of the NCAA Division I women's swimming and diving teams the Lady Flames, has built a state-of-the-art pool facility known as the Natatorium. The new facility incorporates Clear Comfort's leading pool disinfection system to offer a healthier training environment for athletes and spectators. "We definitely notice, walking on the pool deck, that there is no chlorine smell," says Donna Hodgert, Associate Director of Aquatics at Liberty University. "The swimmers are happy to be in the water, their skin is not irritated from chlorine and it's just a good experience for the athletes and the spectators."
Clear Comfort's
 commercial pool disinfection system uses a unique hydroxyl-based Advanced Oxidation Process (AOP) to allow aquatic facilities, like 
Liberty University's Natatorium,
 to reduce their chlorine use by as much as 
40 percent
. By reducing chlorine and providing better disinfection in pools, Clear Comfort eliminates harmful disinfection byproducts which significantly improves air and water quality. For athletes and coaches who spend almost every day in or near the pool, this means fewer health risks, less irritation and the ability to breathe fresh air. "There are many long-term health risks associated with exposure to disinfection byproducts (DBPs), especially among competitive swimmers," says Steve Berens, CEO of Clear Comfort. "Clear Comfort reduces DBPs and provides a much healthier swimming experience for athletes. We are happy to offer these benefits to Liberty University and provide their athletes with the best possible air and water quality." Repeated studies show that competitive swimmers are at higher risk of asthma than athletes in any other sport, and this is likely related to consistent exposure to toxic disinfection byproducts. These DBPs form when chlorine interacts with organic materials in the pool, producing a strong chemical smell and causing itchy eyes and irritated skin. The Clear Comfort system can eliminate up to 
90 percent of DBPs
 and reduce chemical demand, resulting in a much safer and more pleasant swimming environment. "I can maintain the Clear Comfort system myself, whereas the UV system in our older pool needs service professionals to come twice a year to work on it," Hodgert says. "Our chlorine consumption is also much less in our new Natatorium with the Clear Comfort system. Liberty University has one of the best pools in the nation thanks to Clear Comfort". In addition to Clear Comfort providing better air and water quality, it also requires far less maintenance than alternative systems and can dramatically reduce energy costs as well as chemical costs in pool facilities. Pool operators can typically see energy savings of 
60 to 90 percent better
 than alternative technologies. Clear Comfort's AOP systems use the power of hydroxyl radicals to make commercial and residential pools and spas safe and enjoyable for today's health-conscious aquatic facilities and homeowners. Pools and spas using Clear Comfort can have the best water quality possible with minimal chlorine exposure. Clear Comfort systems are in leading universities, resorts, water parks, YMCAs, hotels, recreation centers, spas and homes nationwide.
About Clear Comfort
Clear Comfort manufactures and sells non-chlorine pool and spa water disinfection systems. Clear Comfort's patented hydroxyl-based Advanced Oxidation (AOP) technology provides the best swimming experience available with proven, effective and non-toxic treatment. With headquarters and manufacturing based in Colorado, Clear Comfort customers receive a sustainable, "Made in the USA" product. Clear Comfort is a proud Impact Driven™ company delivering healthy, ethical and sustainable solutions to the market. For more information about Clear Comfort, please visit 
clearcomfort.com
.
About Liberty University
Located in Central Virginia, Liberty is a liberal arts institution with 17 colleges and schools and offers programs in fields such as education, counseling, religion, law, aviation, cinematic arts, business and more. Part of the ASUN conference, Liberty fields 20 NCAA Division I athletic teams and over 40 Club Sports teams, offering you an exceptional college sports experience. Liberty graduates are sought after by prestigious companies for their integrity, personal discipline, and versatility. They are confident and competent, ready to make a lasting impact on their profession and their community. For more information about Liberty University, please visit 
http://www.liberty.edu
.