Discover the future of
aquatic facility water care
Meet the award-winning Clear Comfort AOP supplemental sanitation systems that deliver the best, freshest and healthiest water and air quality – while simplifying operations.
SEE WHAT INDUSTRY LEADERS ARE TALKING ABOUT
LOW-CHLORINE WATER TREATMENT
Better for your patrons, staff & facility​
Do more with less chemicals. Powered by the patented Hydroxyl-Based AOP (Advanced Oxidation Process), Clear Comfort helps you protect against chlorine-resistant threats, excessive chlorine use and irritating disinfection by-products (DBPs) – so your patrons keep coming back.
Air & water that
patrons love
Take control of the health and comfort of your air and water quality for patrons' eyes, skin and lungs – free from harmful signs of DBPs.
Do more,
maintain less
Let your staff focus on what matters most with system care that needs 15 minutes each year and no special tools, training or downtime.
Lower costs,
better water
Have AOP do the hard sanitation work for you, and reduce the need for costly chlorine, other chemicals and energy-consuming UV.
Uncompromised
protection
Protect your patrons and staff from chlorine-resistant illnesses with AOP that's third-party proven to reduce 99.99% of
Cryptosporidium
.
Protect your
peace-of-mind
Take comfort with an industry-leading 5-year system warranty, 90-day money-back guarantee and live support for your staff or service pro.
COMMERCIAL AOP POOL, SPA & WATER PARK SANITATION
COMMERCIAL AOP POOL, SPA & SANITATION
Water that patrons &
staff will thank you for
Free up your time and budget with award-winning AOP pool sanitation for facilities of all sizes. Clear Comfort's commercial pool treatment saves you chemicals, energy and time – so you can offer the best swimming environment possible.
AQUATIC FACILITY AOP POOL TREATMENT
Case studies with proven results
SUPPLEMENTAL POOL & SPA CLEANING SYSTEMS
Powerful protection, made simple
Clear Comfort's commercial pool and spa disinfection systems are the easiest advanced oxidation (AOP) to install and operate while helping your facility:
TRANSFORM YOUR PATRONS' EXPERIENCES
Let patrons breathe easy with fresh water
Grow your facility and attract patrons with pool water that aligns with healthy lifestyles. By stabilizing chlorine levels with Clear Comfort's swimming pool water treatment system, your patrons can enjoy clean, crystal clear and fresh-feeling water without all the toxic disinfection by-products (DBPs).
Clear Comfort is trusted in hotels, universities, water parks, spas, YMCAs, recreation centers, professional sports teams hydrotherapy and more.
SANITATION SYSTEM MATCH UP
How does Clear Comfort compare?
Whether your aquatics facility is old or new, Clear Comfort protects the water and pool surfaces more effectively than other sanitation methods.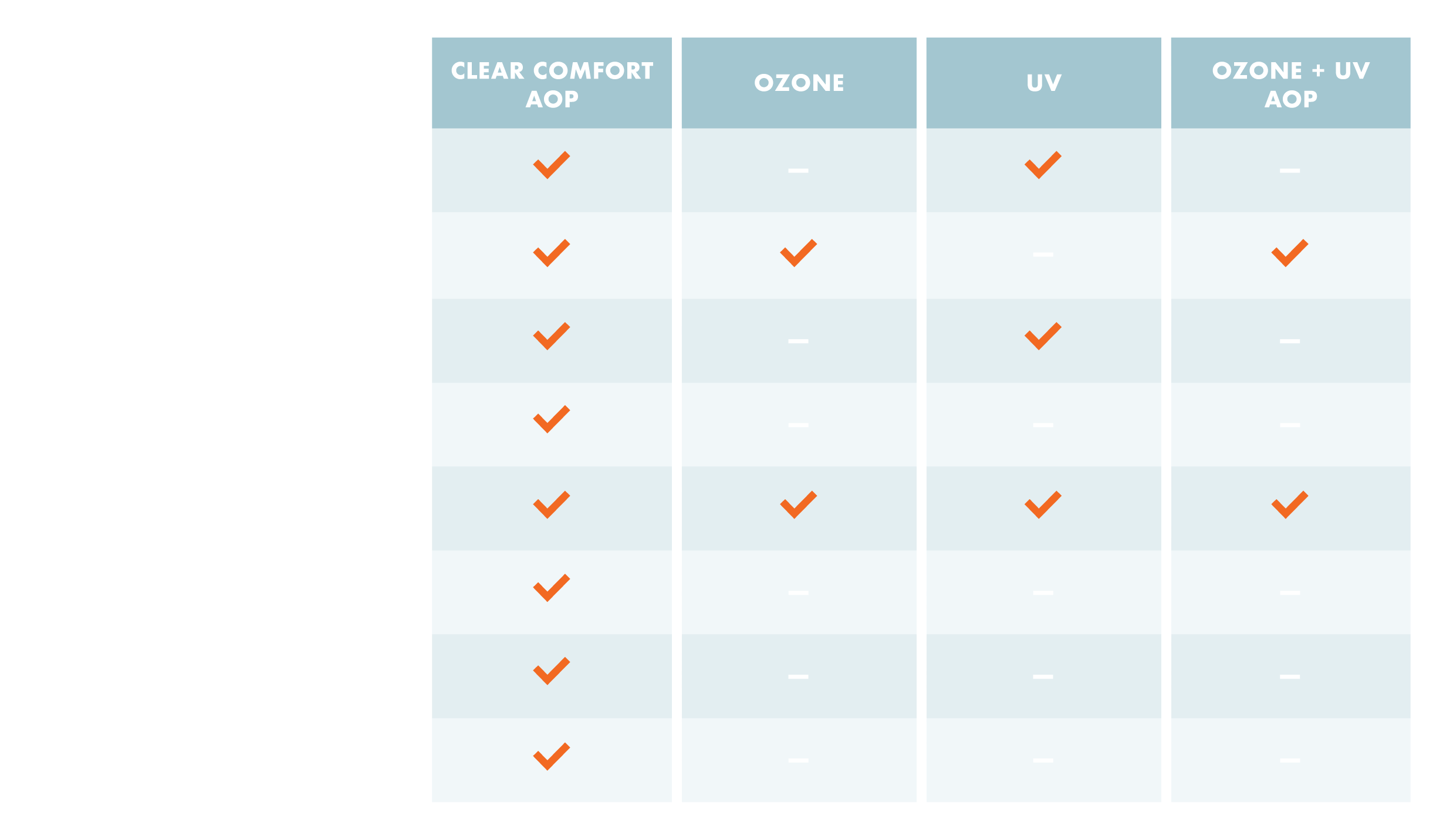 See what real customers have to say about their low-chemical AOP supplemental sanitation systems.
Need to know more about
Clear Comfort AOP?
Ask for a quote
Make an informed decision with insight into how much your AOP system and install will cost.

Get a quote now »
Find a local dealer
Locate a local dealer, retail store, builder or servicer that carries Clear Comfort​ AOP.

Locate a dealer »
Interested in Clear Comfort AOP pool, spa and water park treatment systems?
Find a dealer or pool service provider in your area that carries the award-winning line-up of Clear Comfort AOP pool, spa and waterpark treatment systems.