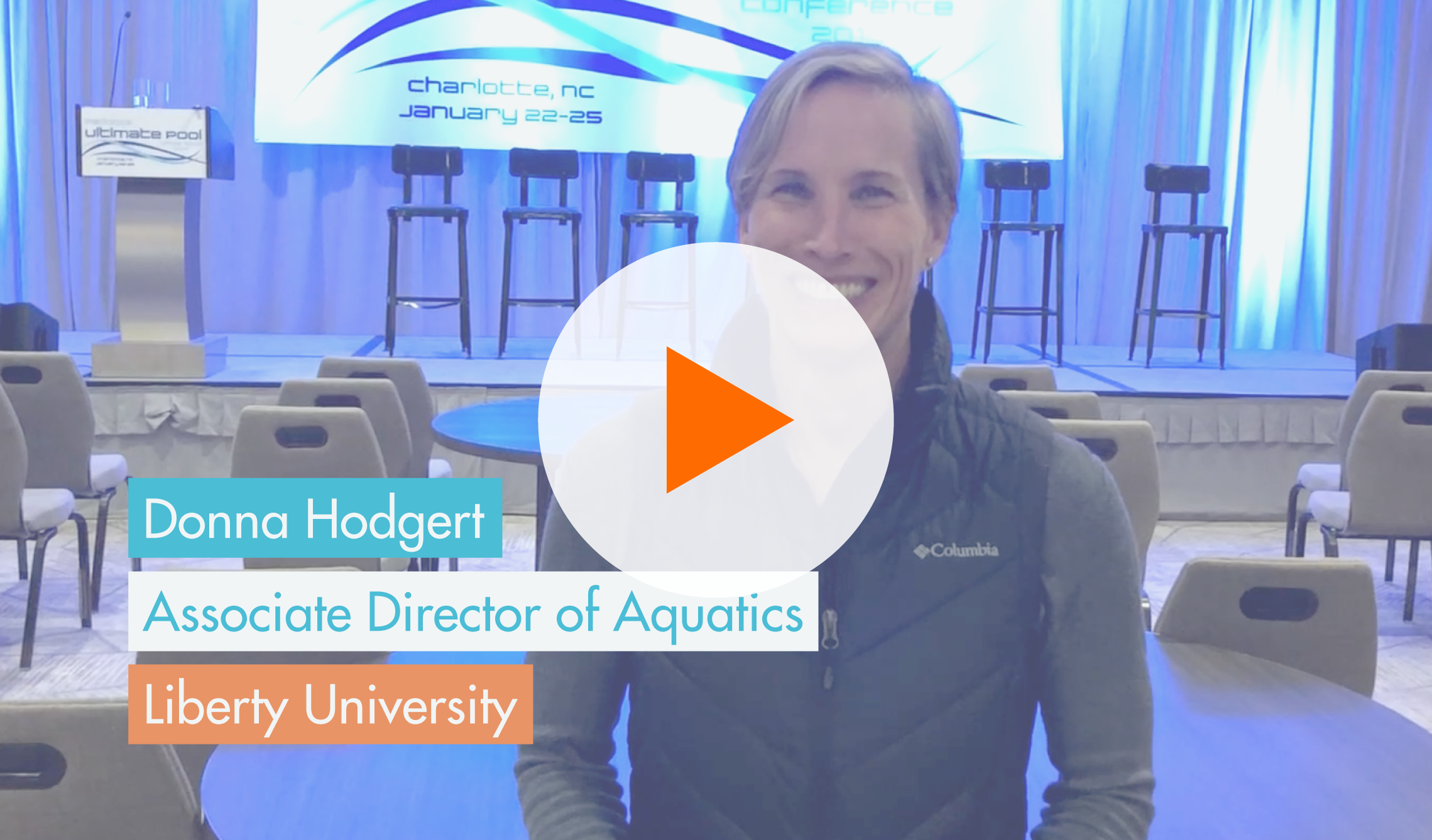 Compared to UV, Clear Comfort's AOP Pool System Allowed a University to Reduce More Chlorine Use and Maintenance Time 
After using UV on an existing pool, Liberty University's staff sought a new pool treatment solution for its state-of-the-art Natatorium aquatics facility. Home to the Lady Flames NCAA Division I women's swimming and diving teams, Liberty University installed Clear Comfort Advanced Oxidation Process (AOP) system on the Natatorium and monitored its performance – while using UV on its other facility.  
Pool Care: UV vs Clear Comfort
Since Liberty University's older facility still has a UV pool system, Donna Hodgert, the Associate Director of Aquatics at Liberty University, has noticed two significant differences between taking care of a Clear Comfort and UV pool. 
Ease of Pool Maintenance 
"I highly recommend the Clear Comfort system," says Donna Hodgert, Associate Director of Aquatics at Liberty University. "It's a system I can maintain myself, whereas our UV system in our older pool needs service professionals to come twice a year to work on it. 
UV systems have large bulbs that need to be cleaned and replaced, which can be complicated and costly. Alternatively, the only maintenance required for Clear Comfort AOP systems is an annual cartridge exchange that takes a few minutes and requires no special skills. 
Pool Chemical Consumption 
"I'm also noticing that chlorine consumption is much less in our new Natatorium with the Clear Comfort system," Hodgert said.
In comparison to Liberty University's older facility using UV, the new Natatorium using Clear Comfort's AOP needs significantly less pool chemicals to keep clean, clear and healthy water. With less chemicals, less electrical consumption and less maintenance time than UV, adopting Clear Comfort's AOP pool system is a healthy, time- and cost-effective win.
Feel of the Pool Water: UV vs Clear Comfort
"I myself get in the pool frequently and I can tell the difference," Hodgert said. "I'm also feeling very secure as a pool operator that the secondary sanitation system is giving us the best protection for keeping us healthy."
Many universities, recreational centers, YMCAs and other aquatics facilities are making the switch to Clear Comfort's AOP because it provides fresh water and air quality with up to 55 percent less combined chlorine than UV. These combined chlorines (chloramines) and other disinfection by-products can cause red eyes, "chemical" odor, irritated skin, asthma, allergies and other respiratory issues. 
How Clear Comfort's AOP Pool System Works
Clear Comfort AOP works by injecting excited atomic oxygen (O1) into the plumbing of a pool or spa, which combines with the hydrogen already present in the water to create hydroxyl radicals. These hydroxyls then react with contaminants in the water, breaking them down and destroying them. 
This process is completely safe for swimmers, non-corrosive to pool surfaces and allows pool operators to significantly reduce their chlorine and chemical use. 
AOP: The Best Pool Treatment Solution
Installing Clear Comfort's AOP pool treatment to the Natatorium has allowed Liberty University to provide swimmers and staff with a healthier environment without the irritation or smell of combined chlorines. In addition, Clear Comfort's AOP reduced the amount of time and money spent on pool maintenance, allowing aquatics operators to spend more time helping their swimmers and facility. 
To learn more about Liberty University's experience with Clear Comfort, visit our press release page "[Video] Liberty University Deploys Innovative, Health-Conscious Pool Water Technology."